Shop Our Top-Rated Car Care Products
Premium Car Wash and Detailing Products
CarCareCo is a leading provider of quality car washing and detailing products, delivering professional products direct to the public.
We are also the Australian and New Zealand master distributors for The Rag Company's premium range of microfibre towels and P&S Sales' range of premium detailing products.

DIAMOND PRO TECH
Diamond ProTech is committed to delivering total protection for your car. The brand offers a complete line of body, glass, trim, wheel rim and interior protective coatings for consumers and has a line of professional products as well – extending that protection to five and even ten years with one application, creating an invisible shield that protects against corrosion, abrasion, UV, scratches, and temperature fluctuations.
View Range
P & S SALES INC. PREMIUM DETAILING BRANDS AND SPECIALS
P & S Sales has been a significant supplier to the professional detailing industry in the USA for 60 years. As the Australian Master Distributor, CarCareCo are proud to make this premium range of detailing products available to the Australian market. With products such as Bead Maker and Brake Buster leading the way in establishing the brand in Australia.

View Range
ETHOS CAR CARE

Ethos was founded with the simple goal of making professional results quicker and easier than ever before. Our products are better because we know what works through decades of experience detailing in the real world. We take this hard-earned experience and combine it with state-of-the-art chemistry to make products that produce results you truly must see to believe.
View Range
THE RAG COMPANY
Boasting the largest range of premium microfibre towels on the planet, it is no wonder that The Rag Company's products are widely regarded as the best in the industry. Whether you are after drying towels, glass towels or polishing pads, CarCareCo has the lot and will deliver direct to the public at competitive prices.
View Range
BUFF AND SHINE
When CarCareCo was looking for a pad supplier, we specifically chose Buff and Shine Manufacturing over a number of manufacturers that were available to us. With its comprehensive approach to the buffing pad industry, Buff and Shine Manufacturing is a unique and innovative producer of unmatched cloths and more. Furthermore, the company's full line of patented products is manufactured in the USA from the highest quality materials available, ensuring equipment that is long-lasting and efficient.
View Range
MCKEE'S 37 PREMIUM DETAILING BRANDS AND SPECIALS
McKee's 37 is a manufacturer and distributor of fine automotive surface care products. With decades worth of experience in the industry, each formula that is produced is finely tuned with the latest technology and innovation to provide the best results every time. As well as this, the Ceramic Series is an all-new line developed around cutting-edge ceramic technology!
Shop Detailing Products
PRODUCT KITS
Check out the great range of product kits now available to purchase online. Vehicle enthusiasts understand the benefits of using high-quality products and now have access to all the items that professional detailers use. Overall, these kits make for an excellent gift and are extremely popular amongst our many repeat clients that keep coming back for more.
Shop Kits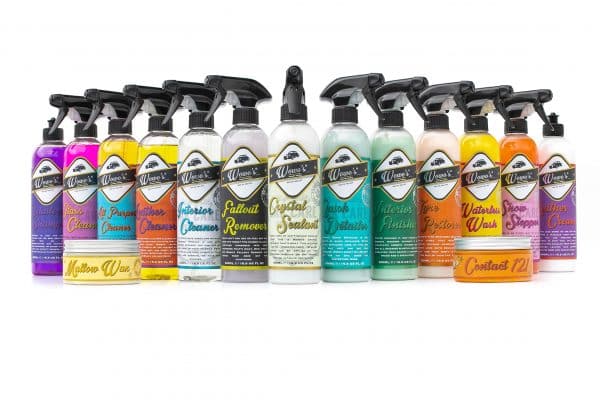 WOWO'S CAR CARE
Wowo's unique and innovative range has been designed to bring the fun back into detailing, whilst providing highly effective products at extremely competitive prices. Additionally, great colours, sensational fragrances and products will exceed your expectations in performance.
Shop Car Care
NEW BRANDS AND SPECIALS
At CarCareCo, we remain focused on providing consistent new product opportunities for our customers. We are always searching for the best new product innovations not just in Australia but around the world. Whilst we like to think we have it covered, if you happen to come across a product that you think we should be offering, please get in contact to let us know.

View Range
CarCareCo's History
CarCareCo has been established to provide Australian vehicle owners access to high-quality car washing and detailing products at competitive prices. We are proud to be the Australian and New Zealand master distributors for The Rag Company's premium range of microfibre towels, P&S Sales' range of premium detailing products, Ethos' expert range of Graphene coatings and car detailing products, McKees' 37 range of high-end car care products as well as the newly released Diamond Pro Tech innovative range of patented nano-diamond vehicle coatings.
The Rag Company are the leading supplier of microfibre towels in the world vehicle market and has the most expansive range of premium blend microfibre towels globally. With The Rag Company already having a substantial Australian customer base due to its quality towels, CarCareCo has now made its products more affordable to the local Australian market.
P&S Sales have been a leading supplier to the detailing industry in the United States for 60 years. They have designed their highly formulated products with the top-end detailer and car enthusiast in mind. Bead Maker, their signature product, has swiftly become one of the most sought-after products in the US, as it protects your vehicle's paint like no other. Please discover our range of P&S products, and you will be delighted to know that we carry the necessary products to suit your requirements.
Together with our partnering brands, CarCareCo is your one-stop shop for all of your vehicle detailing and care requirements.